Whimsy Stamps March 2012 Release!
3/21/2012 09:00:00 AM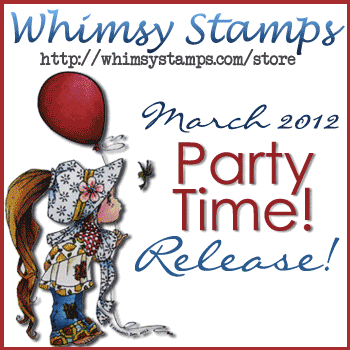 Whimsy Stamps
is releasing
20 fantastic new rubber stamps
and
7 wonderful new Shapeology dies
today together with
2 brand new Shape EZ templates
! These new goodies are available to buy right now from the
Whimsy Stamps store
along with all your Whimsy favourites.
From today until March 27 the Whimsy DT and Special Guests will be showcasing these fabulous new stamps and dies with a
daily mini blog hop
. Each mini blog hop has a new release prize hidden somewhere along the way and you will have
24hrs to enter each prize draw
by leaving a comment on every blog listed for that day.
At the end of release week (Wednesday March 28) we will post a Release Round-Up on the
Whimsy blog
. This will include a selection of new release DT work from the past week together with a complete list of winners from the daily mini blog hops.
To be entered into today's mini blog hop prize draw, be sure to
leave a comment on ALL of the DT posts listed below by 12:00PM EST tomorrow:
For today's showcase, I've used a couple of the new images and a few of the new sentiments and dies! In the last release, I paired up images from the same artists, but this time, I'm mixing it up a bit and combining images from different artists :) Here I've used
Crissy's Birthday Pile Up
and
Elisabeth Bell's Lemon Pepper
. Is it believable that Lemon Pepper is giving the kitty a birthday kiss? lol.
I used a few of the
new sentiments
and
dies
:
Celebration Circle Pennants
with matching
Circle Pennants dies
,
Party Hat Sentiments
with matching
Party Hat dies
, and the oldie (but goodie)
Balloon Die Set
. I was actually quite pleased with the way that the Circle Pennant Dies Set cut - the circles were crisp.
I hope that you like my creation for today :) I had a fun time putting it together!
Finally, here is a full reveal of the wonderful March release:
4 Crissy Armstrong rubber stamps
Balloon Bouquet ~ Birthday Hippo ~ Birthday Pile-up ~ Wee Snippet's Cake
2 Elisabeth Bell rubber stamps
Cinnamon Sugar ~ Lemon Pepper
4 Kenny K rubber stamps
Football ~ Soccer ~ Fabby Farrah ~ Sassy Sadie
3 Meljen's Designs rubber stamps
Birthday Cupcake ~ Darling Dalmatian ~ Pixie Dust Fairy
3 Wee Stamps rubber stamps
Amy Whimsy ~ Angel Cody ~ Angie Whimsy
4 Raindrop Echo Designs rubber stamp sets
Aged To Perfection Notables 3
(coordinating die available)
~ Celebration Circle Pennants
(*new* coordinating die available)
~ Party Hat Sentiments
(*new* coordinating die available)
~ Vintage Birthday Tabs 1
(coordinating die available)
5 Raindrop Echo Designs Shapeology dies
Birthday Sentiments ~ Fence ~ Party Hats Die set ~ Circle Pennants Die set ~ Party Time Notables 3
2 TLC Shapeology die
Cherry Cake ~ Egg Tag
Shape EZ by TLC
Cherry Cake ~ Gradient Wedding Dress
Don't forget to visit today's DT and leave a comment on their blog posts to be entered into the draw to win a new release stamp, then pop back to the
Whimsy blog
tomorrow for the next list of showcase posts!
Thanks for stopping by and I hope you enjoy our new release!