Whimsy Stamps December Rubber Release!
12/08/2010 09:00:00 AM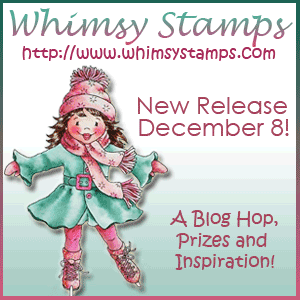 Welcome to the Whimsy Stamps December new rubber release BLOG HOP!
If you would like to participate in the hop and you didn't arrive here from
Annika'
s blog, please CLICK HERE to return to the beginning of the hop at Bev's blog.
We have NINE gorgeous new
Whimsy Stamps
to show you today! These new stamps are available to buy right now from the
Whimsy Stamps store
along with all your Whimsy favourites. We also have our wonderful special guests joining us for this hop - the amazing trio of
Bev
,
Deb
, and
Beate
!
Here is a full list of the super fabulous new rubber stamps being released today:
The hop starts today (Wednesday December 8th at noon EST) and ends on
Wednesday December 15th
at noon EST.
For this hop we have 7 different prize draws. The grand prize of ALL 9 of the new release stamps is being hosted by Simonne at the very end of the hop, but there are also 6 mini candy stops throughout the hop!

I'm one of those giving away some mini candy! Denise was nice enough to let me give away the Friendship Ticket Sentiments and the Music Notes background. To be in the running to win these two stamps, simply leave your information in InLinkz below.
Here are the two stamps I'm giving away at this post:
First, I'd like to share my creations using a bunch of the new stamps! I got to use my new sewing machine on one of the cards. And I really had fun creating the last card :) It was something really new to me and it was nice to try something I hadn't tried before.
Well, I hope you enjoyed visiting me today. Now it's time for you to continue on with the hop by heading on over to
Chris' blog
where she'll be sure to blow you away with something very special and gorgeous!
Here's the complete blog hop list in case you lose your way:
Thank you so much for hopping with us today and I hope you enjoy the new releases!
These cards are for a few challenges: