I can't believe it's finally here!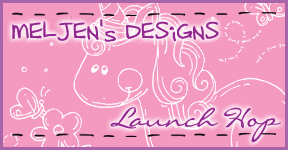 Meljen's Designs Grand Opening
Thank you for joining us for our Grand Opening Hop! If you've come from
Dee's Blog
, then you're right on track! If not, start from the
Meljen's Designs DT Blog
to make sure you haven't missed anything :)
A lot of time and effort has gone into organizing the events for today...and I mean
A LOT
. I'm so proud to be on this team and be able to work along Melissa and the rest of the DT to showcase some of the cutest digis around!
Today we're unveiling the
NEW Meljen's Designs Store (http://meljensdesigns.com)
! The new store has
INSTANT DOWNLOADS
(we all hate waiting), new lower prices on word art, browse-able categories, and a search feature. Make sure to bookmark the new store address (
http://meljensdesigns.com
) because the Meljen's Designs Etsy store will be closing in 2 weeks!
Okay, all my visitors know that
I LOVE CHALLENGES
so of course I'm thrilled to announce that today we are launching the first
Weekly Thursday Challenge
at the
Meljen's Designs DT Blog
! And this week's challenge doesn't get much easier than this - this week's challenge is
Anything Goes
. Make sure you stop by to enter your creation for a chance to win free digis!
Today is also a new release week!
Oh my goodness, what more can I say about this new release? I absolutely love all the images. The new release contains 10 new images: 3 fairies, 3 dragons, 3 unicorns, and 1 word art. It can't get any cuter that these! Check out the new release pack at the store
here
- I know you won't be able to help yourself once you see them. You can also browse the store to purchase individual images. We will have new releases every three weeks so keep waiting the
DT blog
and
the store
for those new images.
Oh, and what's the
prize
for joining us for today's blog hop? How about a
$10 gift certificate
to the new
Meljen's Designs Store
?? Simply comment on all the blogs in the hop by Wednesday, April 7 noon EST for a chance to win the GC.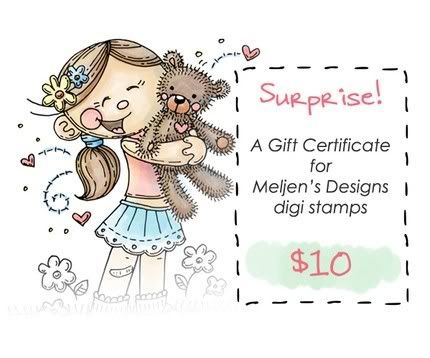 Whew! Okay, you're probably thinking I've rambled on long enough and to just get to my blog hop creation already. For today's blog hop, I've used 3 of the 10 new release images. See how well all of these work together? The fairy is called "Pixie Dust Fairy," the (super cute) dragon is called "Sleepy Little Dragon," and the word art is called, well, "Follow the Stars sentiment," lol.
Now, it's time to head to your last stop, which is Melissa's Blog! Trust me, you won't be sorry that you stopped there :)
This card is for a few challenges: