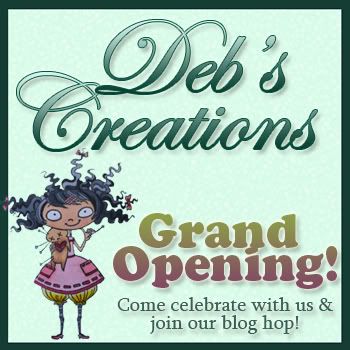 Welcome to the Deb's Creations Grand Opening Blog Hop! If you've come from
Vicki's blog
, then you're on the right track. If not, start back at Vicki's blog and make sure you don't miss anyone!
Yep, today is the day! Today is the
GRAND OPENING
of the
Deb's Creations Store
! It's an online store that's physically located in Australia and has a fantastic selection of stamps, flowers, and other paper crafting accessories and tools. You won't be disappointed with Deb's collection of stamps. She is currently carrying such companies as Whimsy Stamps, Kraftin' Kimmie, Wags and Whiskers, Magnolia, The Greeting Farm....just to name a few! There's just too many to list here so make sure you drop by the
Deb's Creations Store
, especially if you're an Aussie. I'm sure you'll be getting a great deal, especially on the shipping! Oh, make sure to join us at the
Deb's Creations Ning Group
! There are a lot of friendly gals there who love to chat it up :)
Today I have a card to share using the
Wags and Whiskers Easter Blessings
stamp. Deb kindly sent this to me and I had such a great time coloring it! For this card, I've used the sketch from
Truly Scrumptious Challenge #26 Sketch
and used the recipe at
Stamp Something Challenges - decorative paper, ribbon, and button
. I'm also entering this card into the
Wags and Whiskers Challenge #13 Freestyle
.
Below is a complete list of the blog hop. If you lose your way, you can always come back to my blog to find the hop order.
Now, it's time to head to Melissa's blog! Happy Hopping!